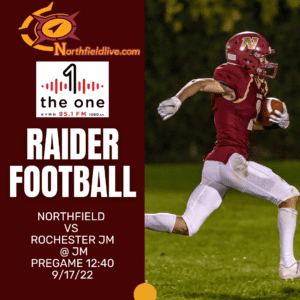 The Northfield Raider Football team looked eager to back on the field, traveling to Rochester for the second week in a row. Today the opponent was 0-2 Rochester JM.
JM won the coin toss and deferred to the second half, that might have been JM's first mistake. The Raiders choosing to receive the opening kickoff didn't waste time taking their opening drive for a touchdown capped by a Kam Kaiser 39 yard touchdown run down the sideline. The extra point was missed. Capping the Raider's second drive in the 1st quarter Kaiser again ruched for a touchdown, this time from 8 yards out. The Raiders choosing to attempt the two point conversation handed the ball off to Gabe Sawyer, setting the rushing tempo and the score at 14-0.
JM did threaten to score a few times but the Raider defense held strong all day. Then, with just :20 seconds remaining in the 2nd quarter Kaiser finds Jake Geiger for a 22 yard catch and run for the Raiders third touchdown for the day.
JM threatened to score again in the 3rd quarter putting together a couple nice drives but the Raider Defense shut them out each time making some very nice plays.
During the 4th quarter the Raiders were able to put the final touches of a great fall day when Charlie Monaghan was able to score on a 8 yard rush followed by Sophomore Ryan Cahoon's first varsity point when he converts the point after.
Final stats: Northfield record is now 2-1
Kaiser passes 3x for 77yards and 1 touchdown and rushes 4x for 66 yards and 2 touchdowns. Monaghan rushes 17x for 92 yards and 1 touchdown. Cameron Mellgren had 12 carries for 42 yards. Owen Murphy, 3 carries for 15 yards. Jake Geiger catches 2 passes for 66 yards and 1 touchdown and Gabe Sawyer 1 catch for 7 yards.