By AJ Reisetter
The Raiders Boy's Track and Field team traveled to Winona on Thursday, May 25th for the Big 9 Conference championship meet and finished in sixth place scoring a total of 120.5 points. Owatonna finished on top with 291.16 points. Full team results are listed below:
1. Owatonna – 291.16
2. Mankato West – 188
3. Rochester Mayo – 186
4. Rochester Century – 151
5. Mankato East – 127.66
6. Northfield – 120.5
7. Faribault – 120
8. Winona – 107
9. Albert Lea – 57.66
10. Red Wing – 55
11. Rochester John Marshall – 41
12. Austin – 27
"Although the team was predicted to take 7th place, we knew we would have opportunities to outperform where we were seeded," said head coach Tyler Balow after the meet. "Several athletes had outstanding performances on the day which propelled us to finish 6th and just 7 points out of 5th place."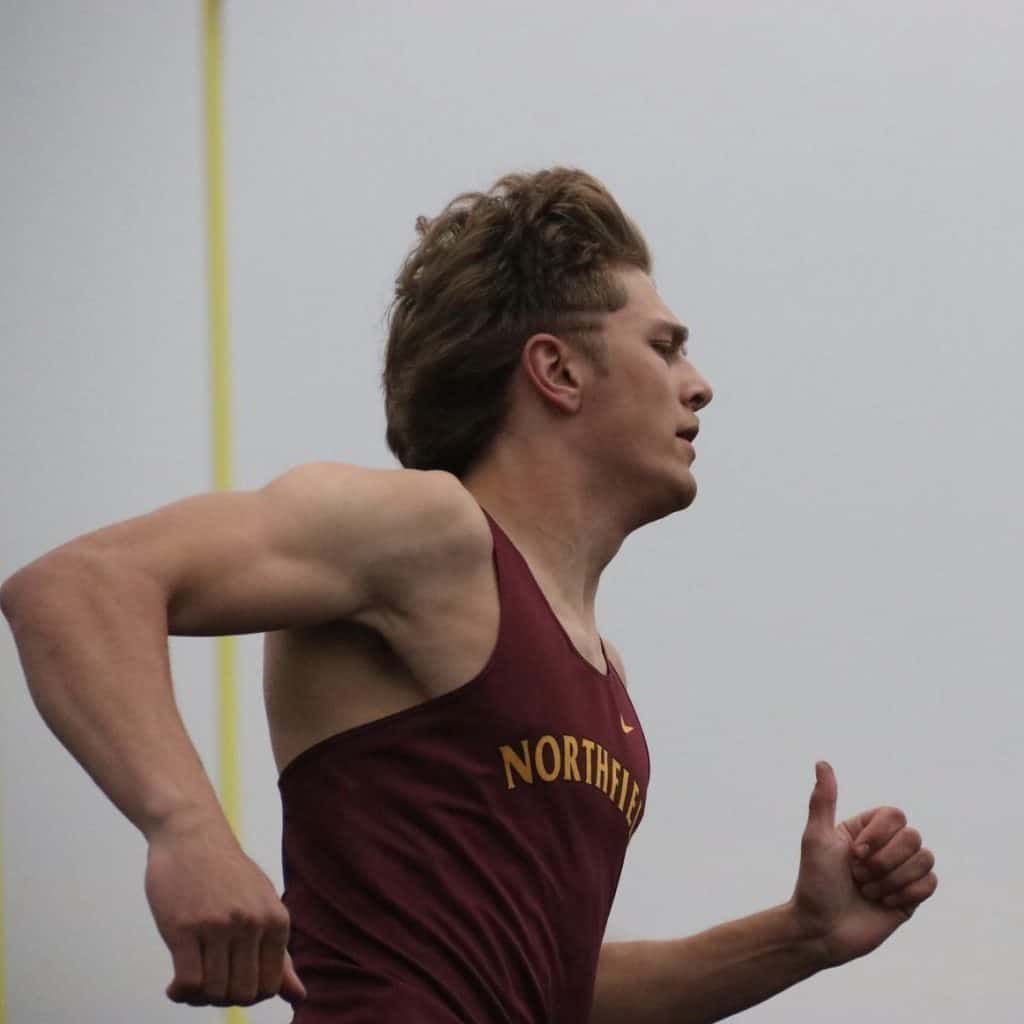 The team combined had 17 career best efforts and four earned all-conference. Kamarian Grant earned all-conference in the high jump event taking second place in the event with a jump of six feet. Stephen Feig earned all-conference in the pole jump for his fourth place vault of 12′ 10″. Nathan Amundson earned all-conference in the 800 and 1600 meter events finishing third in both events. He ran his 800m in 2:00 and his 1600m in 4:27.94. Brayden Brakke earned all-conference in the 100 meter event for his third place finish with a time of 11.24. Hayden Kelly earned conference honorable mention for his third place throw in the discus of 144′ 1″.
More highlights from the meet are listed below:
100m: 3rd place- Brayden Brakke (11.24)
800m: 3rd place- Nathan Amundson (2:00.00)
1600m: 3rd place- Nathan Amundson (4:27.94)
6th place- Brecken Riley (4:36.76)
7th place- Carter Schlomann (4:40.33)
3200m: 6th place- Soren Murphy Pearson (10:13.97)
Discus: 3rd place- Haden Kelly (144'1″)
8th place- Toby Grawe (134'7″)
High Jump: 2nd place- Kamarion Gant (6′)
Pole Vault: 4th place- Stephen Feig (12'10")
Shot Put: 6th place- Joey Schulz (47'5.25″)
4×100 relay: 6th- Jackson Jerdee, Stephen Feig, Kamarion Gant, Brayden Brakke (44.77)
4x 200 relay: 7th- Brayden Brakke, Kamarion Gant, Stephen Fieg, Malcolm Poole (1:33.34)
4×400 relay: 9th- Sam Folland, Cullen Merrit, Sam Swedin, Nathan Amundson (3:38.05)
4×800 relay: 7th- Sam Folland, Henry Vrtis, Soren Murphy Pearson, Isaac Schleif (8:31.94)
The team will compete in the section 1AAA meet Thursday, June 1st and Saturday, June 3rd in Lakeville South for a chance to compete at the state meet.
Stay up to date with all Raider activities on NorthfieldLive.com and by following us on social media @northfieldlive.