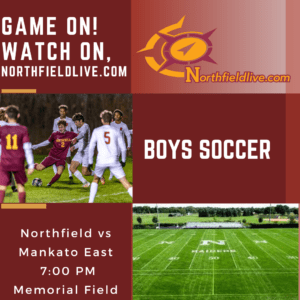 We were treated to another beautiful late summer evening on Tuesday night at Memorial Field plus the Northfield Boys Soccer Team added a game to the win column. This game seemed to move very quick and was entertaining. The ball movement was good from both teams and the goal tending was superior. Mankato East's goalkeeper made several saves, but the goal tending by Zach Breiland was extra clean.
The scoring was started with some nice footwork and pretty goal by Leo Runestad and assisted by Stephan Kallestad. The first goal came with just 4:18 left in the first half and Northfield took that 1-0 lead into halftime. Five and a half minutes into the second half and Manny Ramirez was able to draw a penalty inside the box leading to a penalty kick by Leo Runestad and the Raiders second goal of the night. The scoring came in bunches as just :30 seconds later Manny Ramirez was scored the Raiders 3rd goal assisted by Pablo Orrego.
Northfield wins a fun game with lots of scoring chances, 3-0.
Special thanks to our NorthfieldLive Northfield High School student crew tonight! Have your student reach-out to us if they are interested in joining this fun way to attend games!