Recap provided by Head Coach Janet Smith:
This is the highest place finish for the boys team EVER in the Big 9 Conference.  The Northfield Boys Cross Country team hasn't had a finish this high in a conference championship since the 2003, 2004, 2005 run of 1st place finishes.  The coaches are so proud about the results from all the runners on the team this season.  The boys had 32 lifetime bests and 4 season bests on the day.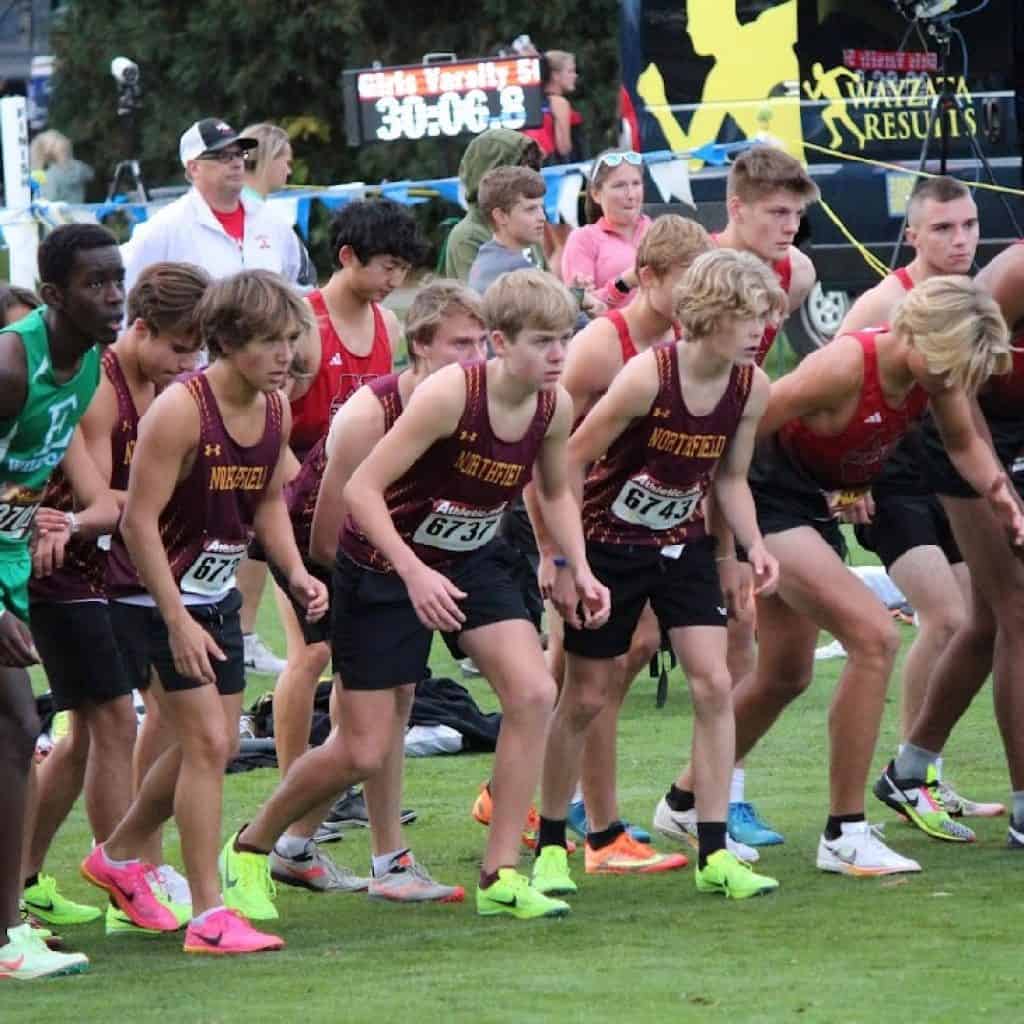 Placing 2nd in both the Varsity and JV races is a huge accomplishment behind the defending AA state champs (and 1st place ranked) Mankato East team.
Special congratulations to the following runners for the conference achievements:
All Conference(top 17) – Isaac Schlief (9th), Soren Murphy Pearson (12th), Evan Loe (15th)
Honorable Mention All Conference (18-25th) – Jason Aldorfer (21st), Fletcher Aylin (25th)
Full Meet results:  https://results.wayzatatiming.com/meets/28446
The Raider Varsity runners were ranked 3rd, four points behind Winona going into the meet.  Going into the race the coaches and runners knew they would have to break up Winona's pack of four runners who all run in front of the Raiders 3rd-5th place runners.  Isaac Schlief and Soren Murphy Pearson had a plan to go out just in front of this pack because Winona tends to go out fast on the first mile.  Then their plan was to keep pushing the rest of the race and place as high as possible.  Evan Loe had a break through race getting his time under 17 minutes for a lifetime best time.  Jason Aldorfer and Fletcher Aylin also did an amazing job staying ahead of Winona's 4th and 5th runners, giving us a huge edge on them. In the end, we beat them by 23 points in a dominating fashion.  Carter Steenblock had a strong race placing in front of many of the other teams scoring runners helping our team to a 2nd place finish as well.
Our JV team had an equally impressive day. Grant Selchow (6th) and Jackson Hessian (10th) were both recognized for their top 10 performances and running lifetime bests. Other point scorers for the raiders in the JV race were Conner Kobes, Theo Ennis, and Jaden Hietala who all fought for every place and second they could. The boys JV were ranked 3rd going into the meet as well with Mankato West having a 40 point edge over us. Instead, we flipped the script and beat them by 39 points to take 2nd.
Coach Janet Smith "To say I am proud of our team standings and all our individual performances would be an understatement. To see this team transform the past two seasons I have been a head coach is such a joy and inspiration.  Last year the Varsity placed 7th in the Big 9 and JV was 3rd.  We have so much more to look forward to at sections next week in Albert Lea and what appears to be a potential trip to the state meet the following week."