By coach Janet Smith
The Northfield boys cross country team began their season by placing 10th against a field of 25 teams on Thursday August 31st at the St. Olaf Showcase. The teams were a mixture of A, AA, and AAA schools. All of our athletes ran in one big race with exactly 200 runners. We had 3 athletes already run lifetime bests in the 5K and 10 newcomers finish their first ever 5K in a raider uniform. Every single returner had a better time on this course than they did last year at the same meet. We were able to beat 60% of the competition with is an exact opposite from last season when 60% of the teams finished ahead of us.
Defending state champs Mankato East, who are ranked 1st again in the State AA polls, won the meet. We had a good showing against some other Big 9 and section rivals. We were right in the mix with Winona and Mankato West. These will be the teams to beat for the Raiders to potentially place 2nd in the Conference this season, behind untouchable Mankato East.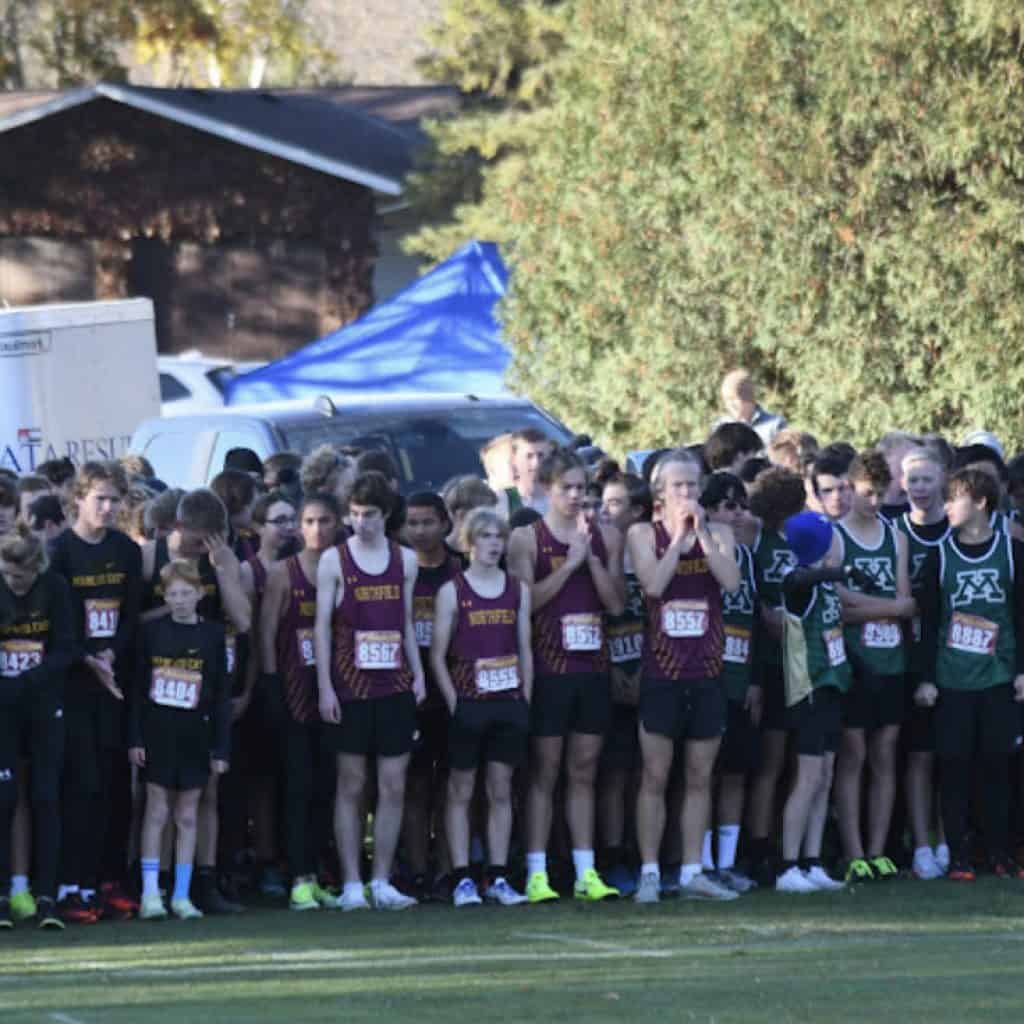 Photo: Evan Loe
Our top seven athletes in the meet who will run Varsity this coming week:
Soren Murphy Pearson – 17:23, 31st
Isaac Schleif – 17:32, 39th (Lifetime best)
Evan Loe – 17:48, 53rd (Captain)
Carter Steenblock – 18:21, 79th (Captain)
Fletcher Alyin – 18:30, 88th
Jason Aldorfer – 18:38, 92nd (Lifetime best)
Isaac Alladin – 19:10, 122nd
Other exciting performances came from what will be our top JV runners this coming week:
(10th grade Newcomer) Grant Selchow – 19:22
Jaden Hietala – 19:27 (Captain)
Jackson Hessian – 19:27
Cameron David – 19:59
Willie Baragary – 20:18 (Lifetime best)
Connor Kobes – 20:18
I am very proud of the work our team has put in so far this season and their performances in the first meet. We still have a lot of tough workouts between now and the championship season, but we put ourselves on the map in this first competition.
The Raiders are back in action this Friday September 8, in Faribault at Alexander Park.