Written by: Keith Harner & Colin Staab
The Northfield varsity wrestling team brought eight wrestlers to Lake City on Saturday, January 28 finishing with seven place winners.
Zane Engels at 120 pounds had another great tournament with a first place finish. In his first match of the day, he won with a 14-4 decision over Colton Glende from Medford. Next, the eighth grader won 7-4 over Ryan House from Chatfield. Lastly, Zane won 6-3 over the 10th ranked wrestler in Class A Chris Cushman from Wabasha-Kellogg.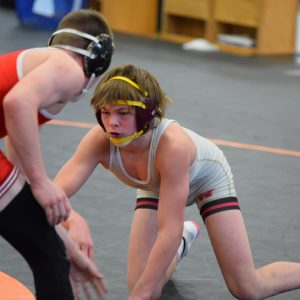 Zane Engels looks for a takedown in his finals match on the way to another first
place tournament finish. Photo by Dana Kuyper
Northfield had three runner-ups, the first was Caden Staab at 113 pounds. The eighth grader won his first match of the day by fall over Kaiden Chicos of Westfield. Staab followed that up with a 3-1 decision in the semifinals over Cris Ramirez from Lake City. In the finals, Caden lost 6-2 to Juan Cobarruvias from Rochester Mayo. Jackson Barron also took second at 152 pounds. He started the day with a 7-2 victory over sixth ranked in Class A Garron Hoffman from Medford. Then he lost 7-2 to top ranked Brodie Kellen from Dover-Eyota. The third and final runner-up was Owen Murphy at 182 pounds. Owen won by fall in his first match, followed by a 3-1 decision over seventh ranked in Class AAA Dylan Peper. The 10th ranked Class AAA sophomore lost a close match in the finals 4-3 to second ranked in Class A Kail Schott from Chatfield.
The Raiders also had two wrestlers take fourth. Keith Harner won his first match 8-0 over Cannon Wackek from Westfield at 126 pounds before losing by fall to second ranked in Class A Tommy Elwood from Medford and fourth ranked in Class A Gage Bartles from Chatfield. The second wrestler taking fourth was Colin Staab. He lost his first match 6-4 against Jackson Welsh from Dover-Eyota. He came back with a fall over Demetrius Bergman from Wabasha-Kellogg. He lost his last match in overtime to Jackson Welsh from Dover-Eyota.
Jack Pribyl took sixth place at 160 pounds. Jack lost his first match by fall to seventh ranked in Class A Chase Kobs of Saint Charles. He then won by medical forfeit and lost by fall to Thad Evans from Chatfield. In Jack's fifth place match, he lost in overtime to Carter Funk from Rochester Mayo.
Northfield will wrestle next Wednesday at Rochester Mayo against Austin and Winona. On Friday, they wrestle at home against Mankato West, followed by a dual tournament in Cannon Falls on Saturday.
Some of the varsity and JV wrestlers were on the mat today at the ninth grade regional qualifier in Farmington. Advancing to the state ninth grade tournament were Sam Harner at 132 pounds finishing first, and Austin Benjamin at 138 pounds taking second place. The state ninth grade tournament will be held next Saturday in Champlin Park. Also wrestling today in Farmington were the following: 106 pounds Talyn Blankenberger DNP, 113 pounds Charlie Johnson 5th, 145 pounds Alexander Salinas Santos DNP, 152 pounds Julian Vasquez 6th, and 160 pounds Kennan Fields 7th/8th.